Home / Founder & Chairman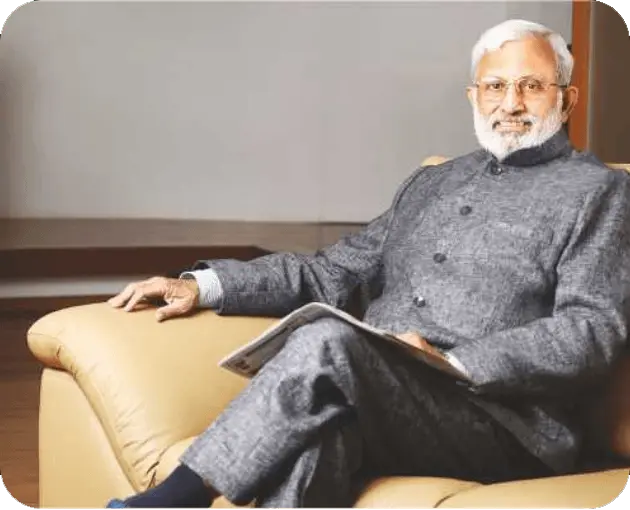 Founder & Chairman, Lokmanya Society, Advisory Editor, Tarun Bharat, Belgaum
Shri Kiran Dhondopant (Alias Baburao) Thakur is the Chairman – 'Lokmanya Multipurpose Cooperative Society Ltd' and 'Tarun Bharat Trust'. He was born in Belgaum on 7th April 1952. He spearheads many social, cultural and educational activities in and around Belgaum. A science graduate, his tilt for journalism started at a young age, for which he completed his Diploma in Journalism from Rajendra Prasad College of Mass Communications, Mumbai. He started his Journalistic career as a Sports Reporter in 1968 with his father's newspaper ―Tarun Bharat. He took over as the Editor in 1979, which gave Tarun Bharat the needed modernization.
His love for banking started after he set up Lokmanya Co-Operative Credit Society Ltd. in the year 1995. Empowering the small business owners with meaningful financial assistance, supporting young entrepreneurs trying to begin their journeys, and creating employment opportunities for youngsters to facilitate their financial upliftment, Shri Kiran Thakur and his like-minded colleagues founded Lokmanya Society to achieve these and many such goals.
His interactions with many imminent leaders who shaped Maharashtra's cooperative movement, from Sahakar Maharshi Vitthalrao Vikhe Patil and Vasantdada Patil to Sharad Pawar, Tatyasaheb Kore and Rajarambapu Patil, led to the foundation of Lokmanya Society.
In 2002 Lokmanya got the status of the Multi State Society and now Lokmanya Multipurpose Co-op Society is India's first Multi-state, Multipurpose Co-operative Society. He has an eye for social work by organizing youth, adoption of backward villages, running an ambulance, spreading literacy, and participating in festivals and cultural shows. He is also on the board of Lok Kalp Foundation formed for the purpose of adopting the underprivileged villages to uplift their livelihood by providing them with essential commodities and services like (providing them health care facilities, imparting education, improving the infrastructure of the villages, & the livelihood of villagers & more) . He is one of the founder members of Venugram Paryavaran Sangh – an NGO working for the protection of the environment. He has been recognized for his work and has been bestowed upon with many rewards such as Dr. N. B. Parulekar Award and Acharya Atre Award for journalism; S. V. Kirloskar Trust Award; Raosaheb Gogte Award for Entrepreneurship, Vocational Award from Rotary Club for Outstanding performance in educational field, Shahu Award (Ichalkaranji), A. A. Desai Award for excellence in social education.