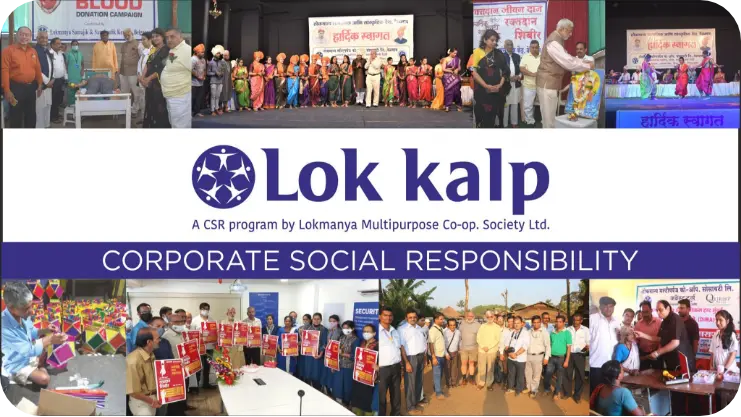 Creating Lasting Positive Changes
In The Lives Of The People
Lok Kalp is a corporate social responsibility (CSR) program by Lokmanya Multipurpose Cooperative Society Limited. It is an initiative by Shri Kiran D Thakur, founder chairman Lokmanya Society , Advisory Chief of Tarun Bharat Daily Belgaum, to create lasting changes in the lives of the people of the villages.
The Foundation operates with the single minded focus empowering rural India. Our vision is rural empowerment through best practices, modern technology and values. We have adopted 32 villages near Kanakumbi and jamboti areas which are situated in thick forests of Khanapur.
Empowering, Communities Punching Through Goals
Supporting communities through preventive health care , natal care, disease control and providing various healthcare facilities Providing Basic & Vocational Education and Necessary Infrastructure to the Needy Students of the Remote Villages Promoting Small Entrepreneurs, Increasing Employment Opportunities, Enhancing Women Empowerment by Encouraging Home Product Industries. Construction of Ponds through Rain Harvesting; Roads for better connectivity; Providing Solar Lights, Solar Motor Pumps, and More to the villagers. "Empowering people is the key to unlocking society's true potential. Everything we do is focused on this aspect, always"
Mr. Kiran D Thakur
Founder & Director, Lok kalp Foundation